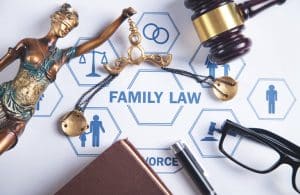 Many people view family law as divorce proceedings and child custody battles. While these are both areas of family law, they aren't the only ones. Family law encompasses a wide range of legal issues that can arise within a family unit.
The family law attorneys at Jenkins-Bryant & Surrette, PC located in Worcester, MA are here to help. Whether you're married, in a domestic partnership, or just dating, you may find yourself in need of a family lawyer at some point in your life. Here are some examples of when you might need family law for Worcester, MA:
You're getting married and need a prenuptial agreement
You're getting divorced and need help navigating the process and dividing assets
You want to adopt a child or get custody of your grandchild
You're being accused of child abuse or neglect
You're being harassed, stalked, or need a restraining order for an ex-partner or family member
You want to create a legally binding guardianship arrangement for minor children
You're being denied visitation with your child by your ex-partner
Your adult child is facing serious criminal charges
Do You Need a Family Lawyer?
Picture this: you and your spouse have been married for 10 years. You have 2 kids together and you own a house. Suddenly, your world is turned upside down when your spouse tells you they want a divorce. You didn't see it coming and you're not sure what to do next.
That's where Hopkinton, Massachusetts, family law comes in. Family attorneys can help you with things like child custody, child support, alimony, and the division of property. In short, family law can help you pick up the pieces after your life has been turned upside down.
What Can You Expect When You're Working with a Family Attorney?
Most people will go through their lives without ever setting foot in a courtroom. But for some, the family law system is an unfortunate reality.
If you find yourself in the midst of a divorce or child custody battle, you may be wondering what to expect. Here are five do's and don'ts that you should know about family law, Hopkinton, Massachusetts.
5 Do's of Working with a Family Law Attorney
Do be prepared for your initial consultation.
Do be punctual and respectful of everyone's time.
Do be honest with your attorney.
Do be patient.
Do follow your lawyer's advice.
5 Don'ts of Working with a Family Law Attorney
Don't try to represent yourself in court.
Don't bring your children to your consultation.
Don't show up late or cancel appointments at the last minute.
Don't lie or withhold information from your attorney.
Don't forget that family law for Hopkinton, Massachusetts is here to help you.
Family law covers many different types of legal issues that can come up within a family unit. Whether you're considering getting married, going through a divorce, or dealing with custody issues, you may need the help of a Hopkinton, Massachusetts family law attorney at some point in your life. JJenkins-Bryant & Surrette, PC is here to help!